Miami Child Custody Lawyers
Assisting with Custody Orders and Parenting Plans throughout Miami-Dade County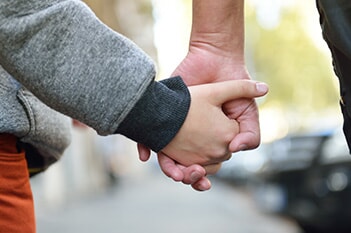 At Orshan, Spann & Fernandez-Mesa, we understand that your children's best interests are your highest priority. Our child custody attorneys in Miami offer aggressive representation in the pursuit of your goals, striving for a positive outcome with the least impact on your children.
Child custody and child visitation can be agreed upon between the parents through mediation or collaborative law, or it will need to be decided by the court in contested situations. Our Miami custody and visitation lawyers can provide the support you need through such a difficult situation while also providing the relentless legal advocacy that you and your child need.
Talk to our Miami-Dade child custody attorneys today – call (305) 853-9161 now to schedule an initial consultation.
Parental Responsibility & Child Custody in Florida
Florida child custody law provides three types of arrangements relating to parental responsibility and child custody:
Shared parental responsibility: This custody arrangement requires both parents to confer and discuss all major decisions affecting the best interests and welfare of the children.
Sole parental responsibility: This custody arrangement applies when shared parental responsibility is deemed to be detrimental to the children and provides for one parent to solely make decisions affecting the best interests and welfare of the children.
Ultimate decision-making responsibility: This arrangement requires the parents to confer and discuss major decisions, but provides that one of them will have the right to decide specific matters (such as medical decisions or educational decisions or some other decisions unique to the child or family) in the event of a conflict between the parties.
In Florida, the state presumes that both parents are entitled to enjoy the rights and responsibilities of raising their children. The court is required to establish a parenting plan that determines not only custody rights but also time-sharing rights, visitation rights, and the division of parental rights and responsibilities.
However, a parenting plan and time-sharing schedule do not necessarily mean a 50/50 division of parenting time and decision-making. For example, one parent could get 70% of the time-sharing, and the other parent gets child visitation rights for the remainder. Each case is determined based on the particular facts and circumstances of the family.
Miami-Dade Custody Lawyers Protecting Your Child's Best Interests
As your Miami child custody lawyers, we can fight to make the case that you are better suited to have the children reside with you a greater percentage of the time. If this is not possible, we can advocate to maximize your time-sharing rights. In all child custody cases, we build a compelling argument on your behalf based on an analysis of the applicable law – which is primarily based on a determination of the best interests of the children.
To determine custody in Miami-Dade, courts consider a variety of factors, including:
Each parent's ability to facilitate and encourage an ongoing parent-child relationship
Each parent's willingness to stick to the time-sharing schedule
How parental responsibilities will be divided after the separation
How long the child has lived in a given stable environment, and how important it is to maintain continuity in their living situation
Where each parent lives or intends to live, and how close the child's school, extracurriculars, doctor, etc. are to each parent's home
The moral fitness of each parent
Each parent's mental and physical health
The child's preferences, if they are mature enough to have a preference
Each parent's ability to provide and maintain a consistent routine for the child
Any history of domestic violence or child abuse
Each parent's parenting skills
The child's special needs, if any
We believe it is in everyone's best interests to come to an agreement without resorting to custody litigation. However, if you are adamant or the other party is unyielding, our Miami custody attorneys are prepared to vigorously defend your interests in a trial, where a judge will make a final determination.
Time-Sharing & Child Visitation Lawyers in Miami-Dade
The parent with whom the children do not primarily reside is entitled to time-sharing (visitation), subject to terms negotiated by the parties or set by the court. Our Miami child visitation lawyers can work diligently to earn you the greatest amount of visitation time with the fewest restrictions possible. In applicable situations, we can work to establish appropriate restrictions on the other parent's rights.
Time-sharing / visitation in Miami-Dade can be ordered as:
Reasonable visitation: The parties agree to open, non-specified time-sharing that is not delineated by a specific schedule.
Fixed visitation: Times and places are negotiated in detail by the parents or the court orders times and places for child visitation.
Supervised visitation: An adult supervisor must be present during visitation.
Grandparent Visitation
Grandparent visitation rights can be difficult to secure under Florida law. When determining whether to award visitation to a grandparent, the court will consider several factors established by statute to determine whether it is in the child's best interests to maintain regular contact.
Modifying Child Custody in Miami
After divorce, a parent's circumstances and the needs of the child may change. Our Miami child custody attorneys can vigorously pursue a modification that may be needed due to a substantial change in circumstances.
Valid reasons for requesting a child custody modification include:
You want sole custody or greater time-sharing because the other parent's behavior is a danger to your child's well-being (e.g., drug use, abusive boyfriend or girlfriend, dropping school grades).
You wish to relocate out of Florida with your child.
You are challenging the custodial parent's relocation petition.
Other reasons evidencing the best interests of a child.
Call Our Miami Visitation Lawyers Today
No matter what kind of custody case you bring us – whether you need to establish, enforce, or modify custody orders – you can rest assured that your case is in good hands at Orshan, Spann & Fernandez-Mesa. With decades of combined experience, our child custody lawyers in Miami-Dade County know how to navigate these matters effectively.
Let us fight for you in your custody dispute. Call (305) 853-9161 now to get started with a child custody attorney in Miami-Dade County. Our Values
Why Choose Our Team to Help You
We Treat You Like Family

We strive to provide quality, thoughtful, timely service to each of our clients. We provide timely, detailed updates on your case and make ourselves available to answer and follow up on any questions you may have.

Personalized Attention to Your Case

Every individual and family has a unique set of circumstances requiring a tailored approach. We treat each client as if they were our only client. Each case is treated with the utmost care and attention.

Thoughtful Preparation & Planning

We will get you through every step and be fully transparent of the process and what you can expect. We take a collaborative approach with our clients - we want to know what you think.

Quality, High-Caliber Representation

Our team is well-respected and recognized throughout the Miami-Dade area. We're known for our precise, in-depth knowledge of the law and versatile, strategic approach to each client's case.